How to Install VirtualBox Extension pack on Windows 10
In previous Tutorial we learn how to install Oracle VM VirtualBox on Windows 10. This section shows you how to Install VirtualBox Extension pack on Windows 10.
Even though it is not essential, VirtualBox extension pack  enables additional features like USB support and Remote Desktop Connections to virtual machines. So it is better to install the extension pack before we start to create and running Virtual Machines on Windows 10.
To Install extension pack, Go to following URL www.virtualbox.org/wiki/Downloads and download the extension pack for all supported platforms.

After download is finished Double click on the downloaded file. When you double click, It will be open with the VirtualBox manager.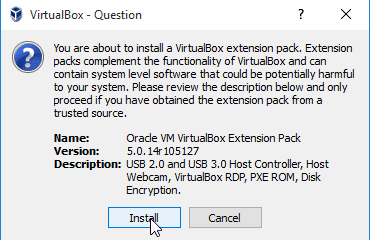 Now, just Click on the install button to install the VirtualBox extension pack on Windows 10.
What is VirtualBox extension pack?
VirtualBox extension pack contains add on softwares for virtual box which enables some additional features. these features include.
VirtualBox RDP - Remote Desktop connections to Virtual Machines.
USB 2.0 and 3.0 Support - VirtualBox USB Support allows guest operating systems to access USB devices on the host computer.
Disk Encryption
PXE boot for Intel cards