7 Best Remote Desktop Software Tools for Windows 10
There's a variety of software on the market that make it possible to access your home or office PC remotely from any other computer connected to the Internet by using an RDP client or a standard Web browser interface.
Since most of us do utilize RDP occasionally, let's take a quick look at remote access software tools that we can use to access our Windows 10 PC remotely.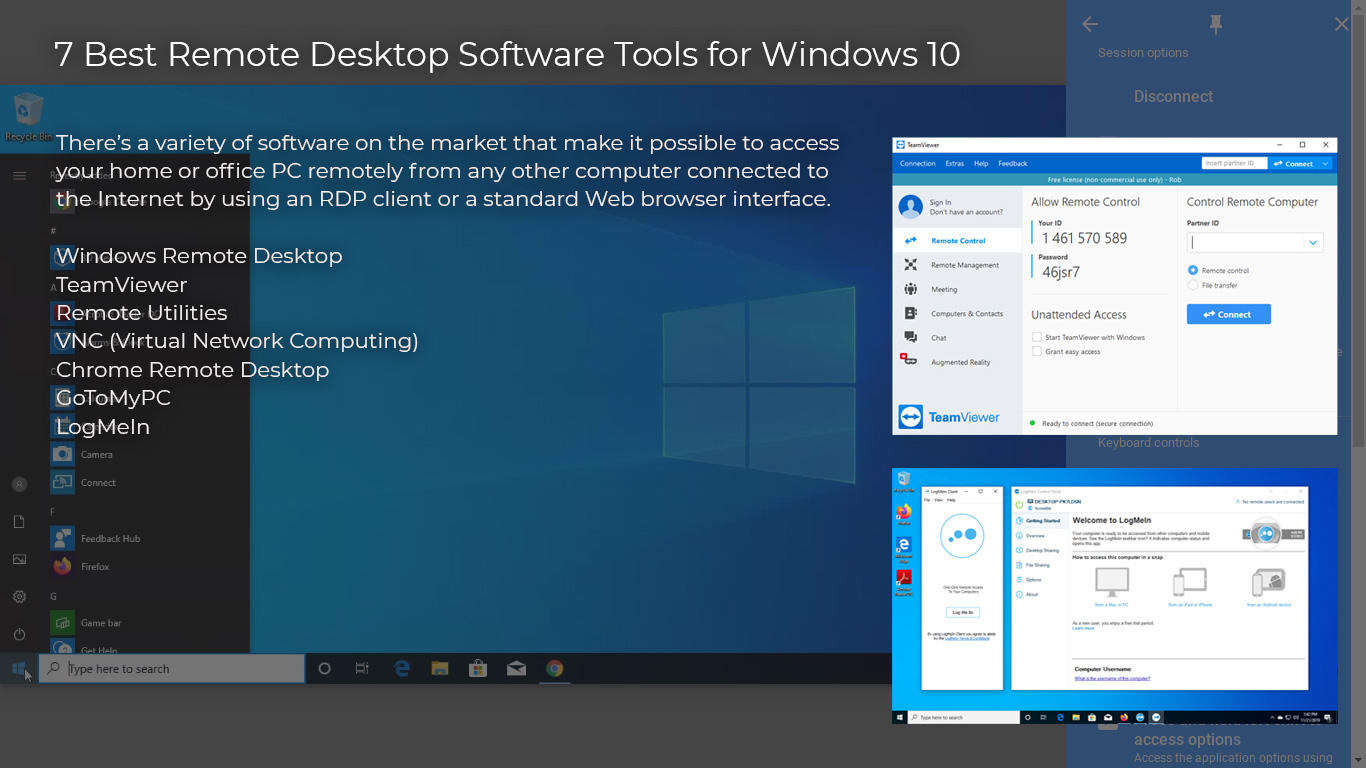 Here is our top 7 pick of best Remote Desktop Software for Windows 10.
Windows Remote Desktop
Microsoft has equipped Windows 10 with a built-in Remote Desktop software that provides a basic remote control support.
How to Enable Remote Desktop on Windows 10.
The client computer must have an RDP client software, which is installed by default on all Windows 10.
However, if you are using Windows 10 Home edition, you can't configure your computer to accept Remote Desktop connections using the built-in Remote Desktop tool.
TeamViewer
TeamViewer is free for personal use and It's available for Windows, Mac OS X, iOS, Android, Chrome OS, and Linux.
Unlike RDP, TeamViewer offers a host of additional functionality from Remote Device Control to built-in VPN service, Cross-Platform Access, Mobile Device Access, Screen Sharing, ticket management, and Multi-User Support Sessions.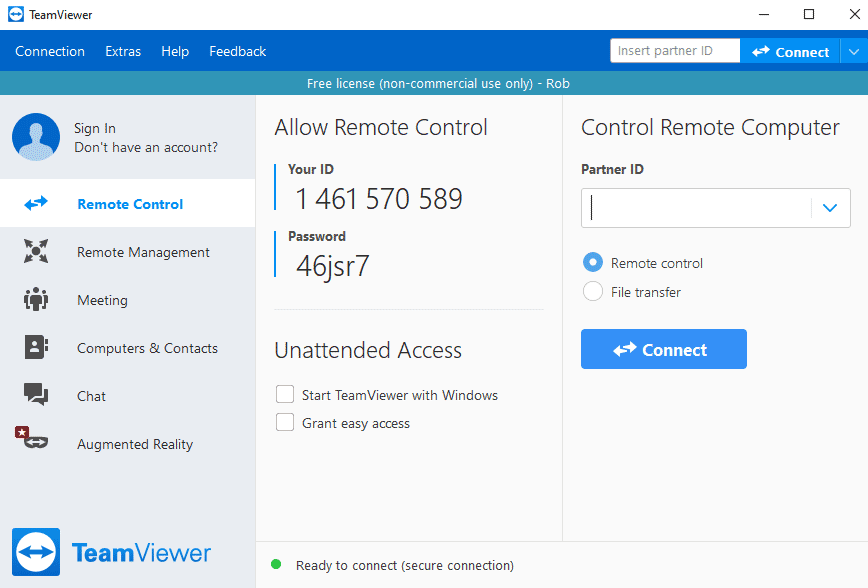 It is, without a doubt, the most popular third-party Remote Desktop Software and TeamViewer is a very common tool of choice for system administrators to provide remote support.
Remote Utilities
Remote Utilities another popular Remote Access Software and Available in free and Paid versions.  The Free version has most of the advanced features you need to have and the paid version includes some additional features such as Helpdesk (support tickets), Remote assistance and Priority support.
VNC (Virtual Network Computing)
VNC (Virtual Network Computing) is a desktop sharing software that uses the Remote Frame Buffer (RFB) protocol to remotely access another computer.
How to install VNC on Windows 10
Similar to TeamViewer, VNC also a cross-platform Remote Desktop Software. Even though it's mostly popular on the Linux platform, VNC is available for Windows 10, Mac OS X, iOS, Android, and many other platforms.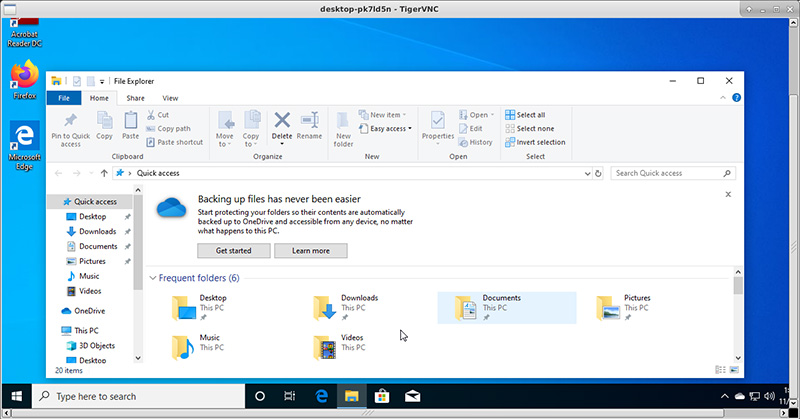 VNC works with a client-server model, the VNC server need to install on your PC, then you can access your PC from a remote location using a VNC Client software which is available for Windows, Mac OS X, Linux and mobile devices.
Chrome Remote Desktop
With Chrome Remote Desktop extension, you can remotely manage your Windows 10 PC using the Google Chrome web browser.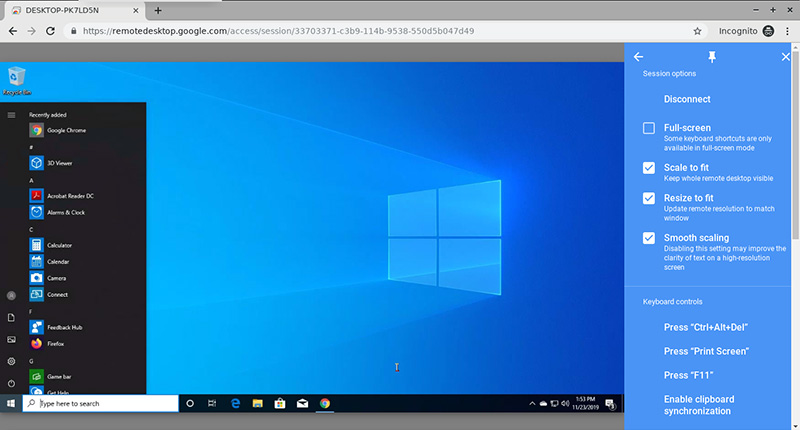 Chrome Remote Desktop supports cross-platform support, and it's completely free.
GoToMyPC
GoToMyPC is a subscription based remote desktop software that allows you to remotely access your PC Via internet browser. GoToMyPC is web-browser based and compatible with both Microsoft and Mac operating systems.
GoToMyPC features include screen sharing, Multi-Monitor Support, file transfer, Copy and Paste, remote printing, guest invite, Usage Reports and chat applications.
Using the GoToMyPC Universal Viewer, you can access your Windows 10 PC from any web browser running on a Windows, Linux (Ubuntu), or Macintosh operating system.
LogMeIn
Another commercial remote access software that includes functionality not available in the Windows Remote Desktop.
Works similar to TeamViewer, you install the LogMeIn host on your Windows 10 computer and then access it via LogMeIn client, which is available for Windows, Mac, Android and IOS.
Other popular versions of remote control software include, I'm InTouch, BeAnywhere, LapLink Everywhere and Radmin.